In the early morning hours of May 25, 2001 history was made when the National Federation of the Blind 2001 Everest Expedition stood on top of the world. This team of climbers, led by Pasquale Scaturro included Eric Alexander, Sherman Bull and his son Brad, Luis Benitez, Mike Brown, Jeff Evans, Steve Gipe, Didrik Johnck, Charlie Mace, Chris Morris, Mike O'Donnell, and blind climber Erik Weihenmayer. With not only Weihenmayer reaching the summit, but also the oldest climber to summit (Sherman Bull), the first father and son team to summit together (Sherman and Brad Bull), and the largest team summiting with 19 of 21 members, many ideas of what were once thought possible have now been shattered. more.... dispatches, photos, learning...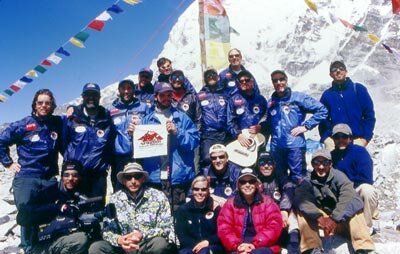 This team would have never been complete without our base camp support crew of Kevin Cherilla, Reba Bull, Kim Johnson, Maurice Peret, Matt Sanner, Zach German, and our high and low altitude Sherpa crew led by Kami Tenzing.
Many thanks to the people and companies that supported this expedition including the National Federation of the Blind, Allegra, Mountain Hardwear, Osprey Packs, Comspec DPI, , Sterling Rope, Benchmade, Cascade Designs, Smartwool, Turtle Fur, Costa Del Mar, Arizona Mountaineering Club, Reason, Trango, , Leki, Gamma Seal, Cowgirl, Chums, , and the .
More Expeditions!!
In Erik's continuing quest to climb the highest peak on each continent, the 2002 Mt. Elbrus Ski Expedition will attempt to climb the 18,442 foot high Mt. Elbrus and then ski down.
After Elbrus, one final summit will remain. The elusive 16,023 foot Carstenz Pyramid is located on Irian Jaya of Western Papua. more...
Erik's Book
Erik's autobiography on paperback was just released. To read an excerpt or to get a copy of the book, visit Touch the Top.
Farther Than the Eye Can See - the Award Winning Movie
Farther Than the Eye Can See is presented by Outside Television in association with the Outdoor Life Network directed by Michael Brown, written by Michael Brown and Joshua Colover, produced by Joshua Colover and Chris Blum, Co-Produced by Erik Weihenmayer and Ed Weihenmayer, associate producer Kim Morris with Les Guthman, executive producer, edited by Michael Brown, original music by Kip Keupper of Coupe Studios, HDTV On-Line Facility 42 Productions. The Everest Expedition and Filming were sponsored by the National Federation of the Blind and Allegra.